The process of e-filing service tax return in India is quite easier than your thought a common person with little knowledge of internet can file the service tax return online. Why I am saying so, well you will also learn it soon after reading this post. In my today's post I have shared how can you file the service tax return online or e-filing of service tax return step by step with images so that, you can learn the process quickly and easily.
e-Filing of Service Tax Return in India Step by Step
The first thing you have to do is that visit the official website of Automation of Central Excise and Service Tax which is: www.aces.gov.in after opening the website click on "Service Tax" tab as given example in below image.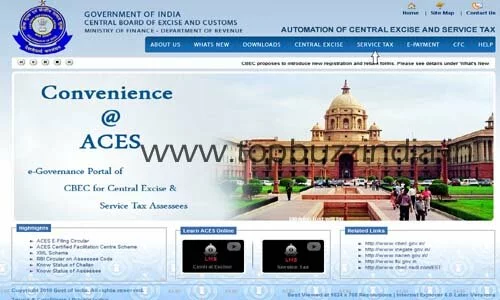 After clicking on service tax tab you will redirect to new page now click on "New User Click Here" option example given below in image.
After registration with aces.gov.in you will receive an confirmation email similar as give below:
Now you have user name and password of aces go back to the official site and again click on service tax tab and now fill both the field accordingly. After filling user name and password in the field you will redirect to new page now click on "REG" tab and under it click on "Fill ST-1" now you will get an lengthy form fill all the required filed accordingly.
You can see an icon of search click on it after clicking an pop window will open with the name of "SEARCH SCREEN FOR TAXABLE SERVICES" as name indicate find your taxable service in it and click on submit button and the filed in this form will be filled automatically. after filling all the necessary details click on next button. After clicking on next button you will reach the home page now click on "E-Payment" Tab and you will see the page as follows:
Click on "Please click here" option you will reached to new tab namely "Easiest e-Payment" fill the 15 digit of "Assessee Code" next fill the captcha word in the box. choose 0044 service tax option now click on "Select Accounting Codes for Service Tax" after selecting it choose your bank through which you want to make payment and its done.
Hope you have learned how to submit service tax online or e-filing of service tax in India. If you do have any doubt or query please let me know in below box.
You can also see this video by : Svtuition