Dance Plus 2 2016 Winner Name – Star Plus Dance+ Winners List of All Seasons 1, 2 With Images

"Dance+" is one of the biggest and most popular dance reality shows of India and the first season of Dance Plus was aired on 26 July 2015 and it was broadcasted on Star Plus. As the show is going to complete 2nd successful season and here on this page we have decided to provide you complete list of Dance Plus Winners from season 1, 2 year wise as well as you can see the judge, mentors and host name of all seasons.
Before air on TV team of Dance Plus take audition in several cities of India and selected contestants move to compete with each other to won the title of "Next Dance Sensation"  along with the cash prize which detail is give below and contestants can perfrome in Single, Duos, and Group in the show  So, without much delay let's move to dance plus winner name list of all seasons.
Winner of Dance Plus Season 1: V Company (2015)
Dharmesh team "V Company" was the winner of Dance Plus season 1 which was premiered on 26th July 2015. The grand finale episode was telecast on 11th October 2015 on Star Plus. The Journey of V Company was not so easy as they got very tough competition in their dance journey of Dance Plus. It was very difficult for the mentors to manage the group of 50 members but they made it and won the title as well as cash prize of Rs. 25 Lakh, A Maruti Swift Car. The another group "Question Mark Crew" was on 2nd place while the Rubber Boy "Hardik" stand on 3rd position.
Mentors, Judge & Host of Dance Plus Season 1
The super judge of the show was off course it's "Remo D'Souza" while the other judges or Mentors of the show were Dharmesh Yelande, Sumeet Nagdev and Shakti Mohan while the show was host by the most talented slow motion dancer "Raghav Juyal".
Dance Plus 2016 Season 2 Winner – Tanay Malhara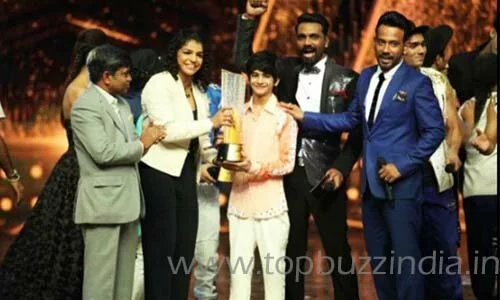 The second season of Dance+ is won by the 14 year old boy Tanay Malhara who was from the team of Dharmesh.
"Winning this show was a very big surprise. I didn't know so many people out there have been supporting me. Most importantly, Dharmesh sir has supported me throughout and I dedicate my win to him," Malhara said in a statement.
Dance Plus is back with its season 2 in 2016 and take audition in different cities of India from 03rd May to 26th May 2016 and the show premiered on TV from 2nd July 2016. It's difficult to say who will be the expected Winner of Dance Plus 2 as still 1 month more journey is left however below is the name of Dance Plus 2 Contestants and their mentors you can let us know your view about the expected winner of dance plus 2 in below box.
Dance Plus 2 Mentors & Contestants Name List
In season 2 of Dance Plus only 1 change in the list of mentors as Punit Pathak replace the Sumeet Nagadev below is the name list of Mentors name with their team or contestants.
Team Shakti Mohan
Piyush Bhagat
Sushant Khatri
X1X CRew (Group Performer)
B.A.N.D.I.T.S. Crew
Team Dharmesh Yelnade
Yo Highness
Tanay Malhara
Wild Rippers
Mokshada Jailkhani
Team Punit Pathak
Shaziya
Urban Singh Crew
Famous Crew (FAM.O.U.S. Group)
Ming Ma
Super Judge of Dance Plus 2
You already guess about it yes its once again "Remo D'Souza"
Dance Plus 2016 Season 2 Host
The show was once again host by Raghav Juyal individually
Dance Plus 2 Prize Details
Prize Money: Dance Plus season 1 prize money was Rs. 25 Lakh and it is expected it will be similar to season 1.
Car: The name of the car is not clear so far it will be updated soon so keep in touch with us.
This page will be updated time to time so bookmark us for the latest buzz about Dance Plus and don't forget to share the name of your favorite contestants or who could be the next dance sensation or winner of Dance Plus 2.