MTV SplitsVilla 2015 Season 8 Winners – Anuki Tchokhonelidze & Prince Narula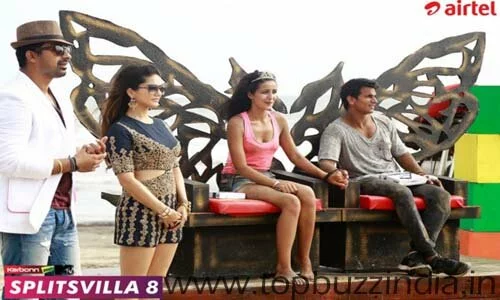 The eighth season of MTV Splitsvilla was started from 4th July 2015 and the grand finale of the episode was premiered on 14th November 2015. MTV Splitsvilla 8 was hosted by VJ Rannvijay Singh & Sunny Leone both were hosting the show for 2nd time as Rannvijay hosted the first season of MTV Splitsvilla already and Sunny Leone hosted the 7th season of the show with Nikhil Chinappa they both were hosting the show together for the first time.
It was very tough competition between the finalists Zaan – Karishma & Prince – Anuki but Prince & Anuki made it and becomes the emerge winner of MTV Splitsvilla 8. There were total 16 girls and 17 boys in the show and their names are listed below. Prince Narula was also the "winner of mtv roadies" & later becomes the "Winner of Bigg Boss" in 2015.
MTV SplitsVilla Season 8 Contestants Name
Girls
S.No.
Name
Status
1
Sarika Raina
Dumped by Utkarsh
2

Anuki Tchokhonelidze

 

Winner

3
Alisha Sharma
Dumped by Prathmesh
4
Ashmita Singh
Dumped by Utkarsh
5
Mia Lakra
6
Veronika Rajput
Dumped by Utkarsh
7
Karishma Talwar
8
Vanessa D'souza
9
Vaidehi Srivastava
10
Harshita Kashyap
Dumped by Prince
11
Enakshi Sharma
Dumped by Zaan
12
Sana Sayyad
13
Priyanka Bora
14
Reshu Singh
15
Subuhi Joshi
Late Entry
16
Sophiya Singh (late entry)
Late Entry
Boys
| | | |
| --- | --- | --- |
| S.No. | Name | Status |
| 1 | Viren Singh Rathore | Celebrity Entry |
| 2 | Shivam Babbar | |
| 3 | Gaurav Arora | |
| 4 | Yash Pandit | Celebrity Entry |
| 5 | Vikas Mehta | Upcoming Entry |
| 6 | Ishan Chhibber | Celebrity Entry |
| 7 | Utkarsh Gupta | Celebrity Entry |
| 8 | Nishant Gand | |
| 9 | Zaan Khan | Celebrity Entry |
| 10 | Amaad Chintoo | Celebrity Entry |
| 11 | Paras Chhabra | Celebrity Entry |
| 12 | Prince Narula | Winner |
| 13 | Abhijit Dutta | |
| 14 | Abhishek Yennam | |
| 15 | Ish Thakkar | |
| 16 | Prathamesh Maulingker | |
| 17 | Ravi Shukla | |